Corona Pandemic Resources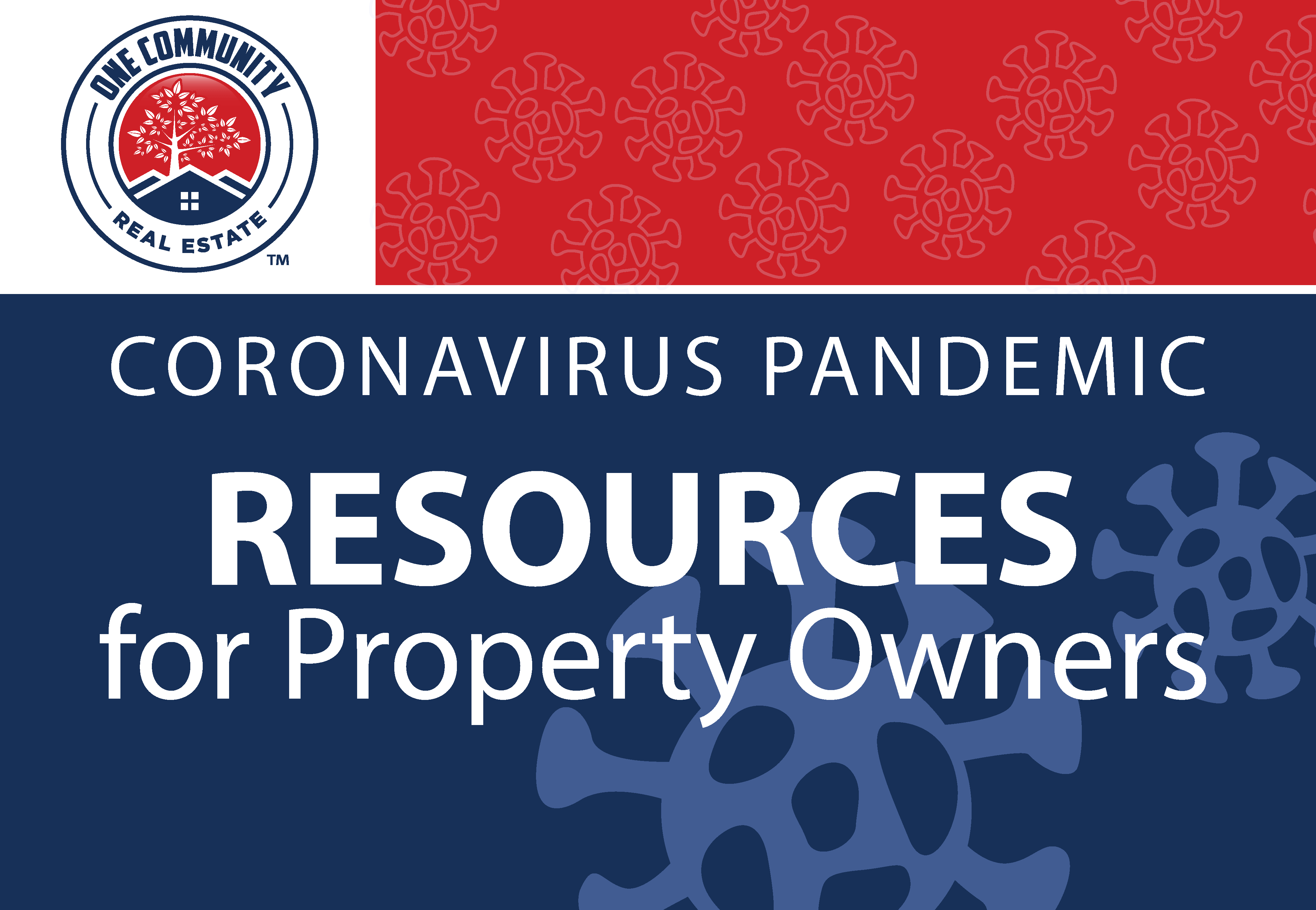 Our hearts go out to everyone that has been impacted by this pandemic. There are a lot of unknowns, and your health and safety are our #1 concern at One Community Real Estate™.

We know that thousands of people are affected by job loss, lay off and no pay. The Federal Housing Finance Agency issued a statement letting borrowers know that a hardship forbearance may be an option for those who are unable to make their monthly mortgage payments.
We urge you to contact your mortgage provider, as soon as possible, if you feel that you might not be able to make your mortgage payment. You are not alone and there may be some relief during these trying times.
If you are curious about rates, want market updates, or need support — we are here! Feel free to reach out, we are your real estate advocates.
Your One Community Real Estate™ Team
Resource Links (please continue to return for updated links and resources):
Coronavirus (COVID-19): Small Business Guidance & Loan Resources - Link
Coronavirus (COVID-19): Small Business Disaster Loan Assistance - Link
The Right Tools, Right Now initiative - Link

NAR Offers Members TeleHealthSM to Realtors® at No Cost in Response to COVID-19 Crisis - Link
FHFA Mortgage help for homeowners impacted by the Coronavirus - Link
National Association of REALTORS® Coronavirus: Resources for Property Owners - Link
---
Payroll Protection Loans from the SBA
---
How to Help Clients Avoid FHA Foreclosure During Coronavirus
Questions about FHA loans and foreclosure prevention.
---
NAR Offers Members TeleHealthSM to Realtors® at No Cost in Response to COVID-19 Crisis
Check it out! New benefit for telehealth for non-emergency medical issues for members. Of course, check with your insurance first and even Medicare, but yay for member coverage!
---
Monday, March 23, 2020: Multifamily Property Owners Mortgage Forbearance
The multifamily mortgage forbearance and eviction suspension programs are the latest actions that FHFA has announced to ensure the Enterprises fulfill their missions during the coronavirus national emergency. Other actions include:
Testimonials
" Thank you, Leigh! We are very grateful for all you and your team do for this community. Thank you for sponsoring our teacher appreciation event for 400 teachers! "
- Barbi Jones, Cabarrus Regional Chamber of Commerce
" Thank you, Leigh Of all the realtors we've had in our lives, you stand out far and above all the others combined. During the years we hear from you it's like hearing from an old friend. They always come from your heart and always with a message of helping others as well as ourselves. I always look forward to hearing what you have to say. Happy Holidays to you, your family and your team. ? ?? ? "
- Scott Miller
Previous
Next